Club History 
Club Formation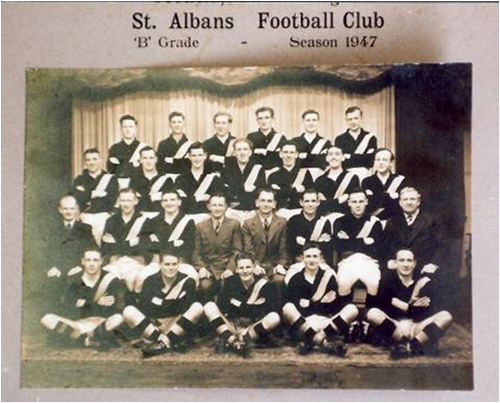 A public meeting was called to be held at the St Albans Fire Station in September 1946. The reason for this meeting was to form a Football Club. That Club is the St Albans Football Club as we know it today. Twenty six people attended this meeting. It was voted that Mr W E Perrett be the President for the first year. Mr J Douglas was appointed Secretary, Mr S Taylor as coach. Membership ticket to be issued in receipt of membership fee of 7/6. Moved that a meeting be held in 4 weeks. Business Banking to be carried out at Commonweath Bank of Australia, St Albans branch. (Sadly they didn't date this meeting, guessing 29/9/1946) Meeting closed 12:15pm.
---
27/10/1946
Discussion on colour of Guernsey, Mr Moffatt was to make inquiries on Guernsey.
A social committee was agreed to contain 3 boys and 3 girls. Moved that a committee of a minimum of ten be formed. Meeting closed 11:15am.
---
23/1/1947
Moved that Richmond colours be adopted for our Guernsey. It was moved that a red guernsey with a white sash be second choice if Richmond colours were unavailable. Moved that no player be paid to play with St Albans FC.
Errington Reserve is to be our home ground and we have to pay 2 pound 10 per anum. A working bee was called for 26th January 1947. Goal post needed to be sourced. 25 guernsey's to be purchased.
---
5/2/1947
Moved that captain and vice captain be picked committee. Practice nights to be Tuesday and Thursday. Moved that any player not attending practice or matches when chosen shall be liable to penalty imposed by committee. Moved that an accident fund be formed, benefits 2 pound per week for injury leading to loss of work. Six shillings per week shall be collected from players for accident funds. Moved that no intoxicating liquor be allowed in clubrooms or on ground at practice nights or competition matches. Any infringement of this rule shall be dealt with by committee.
---
22/2/1947
President reports good work being done at working bee and social functions which have been a financial and social success. Secretary reports that guernsey's and socks are well in hand. Coach reports that training starts on March 4th. Secretary reports that footballs will be hard to get. Secretary requests that a meeting be called to consider work and materials required for hut (clubrooms) at Errington Reserve. Moved that Mr Doherty be engaged to transport players to matches.
---
10/3/1947
Coach reports training has started and numbers are good. Moved that S Taylor be appointed Captain as well as coach. Vice captain A McPherson be elected. Selection committee comprises of S Taylor, J Douglas, A Priest.
---
23/3/1947
Coaches report 26 members attended training. Delegates report that the FDL held a meeting on 19th March. Names of teams in three grades A.B.C. and that St Albans FC officially accepted in the FDL. Moved that new balls be purchased for practise match between St Albans and ICI (Deer Park). Competitive games to start 26th April.
---
20/4/1947
Secretary reports that wool for socks was available. Socks that were obtained by members already knitted, a charge of 5 shillings will be made. It was desided that some of the trophieds will be "Most Improved Player", "Most Consistent Player", and "Most Attentive Player to Training". A letter to be sent to A Priest asking him whether he desired to play football with St Albans FC.
---
19/5/1947
Moved that any timber received from Mr Doherty for the hut be paid for out of club funds. Moved that Mr T Smith, Mr A Dixson be nominated for selection committee.
---
9/5/1947
Moved that N Goddards resignation from the committee be received with regret.
Moved that Mr Cornhill be elected for vacant position on committee.
A vote was taken as to whether a trip away at the end of season was desired by members. Motion carried.
A end of season trip committee was formed L Hassett, R Bell, and T Daish were selected.
---
15/6/1947
Mr T Smith is appointed to selection committee. Moved that any outsider desiring to play football must be referred to committee before playing.
---
20/7/1947
Moved that Mr J Douglas be appointed manager of trip away.
Suggestions for Destination of Trip Away:
Alexandria Mornington Maffra
Thornton Daylesford Mansfield
Ararat Maryborough.
---
27/7/1947
Working bee on Sunday to improve the surroundings of the Hut. We received a grant for 5 pound for equipment for club nights. We donated a bell to a school. Moved that Errington Reserve Committee be approached for permission to build a locker. Moved that no action to be taken regarding formation of a cricket club by the footballers.
---
17/9/1947
Allocation of Trophies
Best and Fairest: (1) R Priest (2) C Missen
Most Consistent: A Goddard
Most Attentive Player to Training:` L Butler
Most Useful Player: J Stevens
Best Clubman: R Patten
Most Outstanding Player: C Missen
Most Useful: S Taylor
Most Improved: M Missen
Best Backman: L Hassett
Best Forward: A Priest
It was moved that a smoke night be held for the club also Presentation Dance on separate nights. Presentation Night was to be held on 1st November.
---
26/10/1947
Moved that the Football Club supply labour to erect a veranda on Errington Reserve Hut.
The Annual General Meeting be held on 2nd March 1948 at 8pm Sharp. Purchase a large photo of the team for the Clubrooms.
---
1/3/1948
Annual General Meeting
Held at St Albans Hall 37 Members present. President welcomed all, Minutes read from inaugurated meeting, Balance sheet for season 1947. Annual report given by President, Coaches reported on the way the club went for first year. Then it was the election of office bearers for 1948. President re elected and so on. They also made a few amendments to the constitution.
General Business
Change of bank from CBA St Albans to National Bank Sunshine.
It was moved to raise some fund for the family of the late Mr J Leckie.
To get in contact with Mr Pennell for heaters for showers.
That's the first year of our proud club.